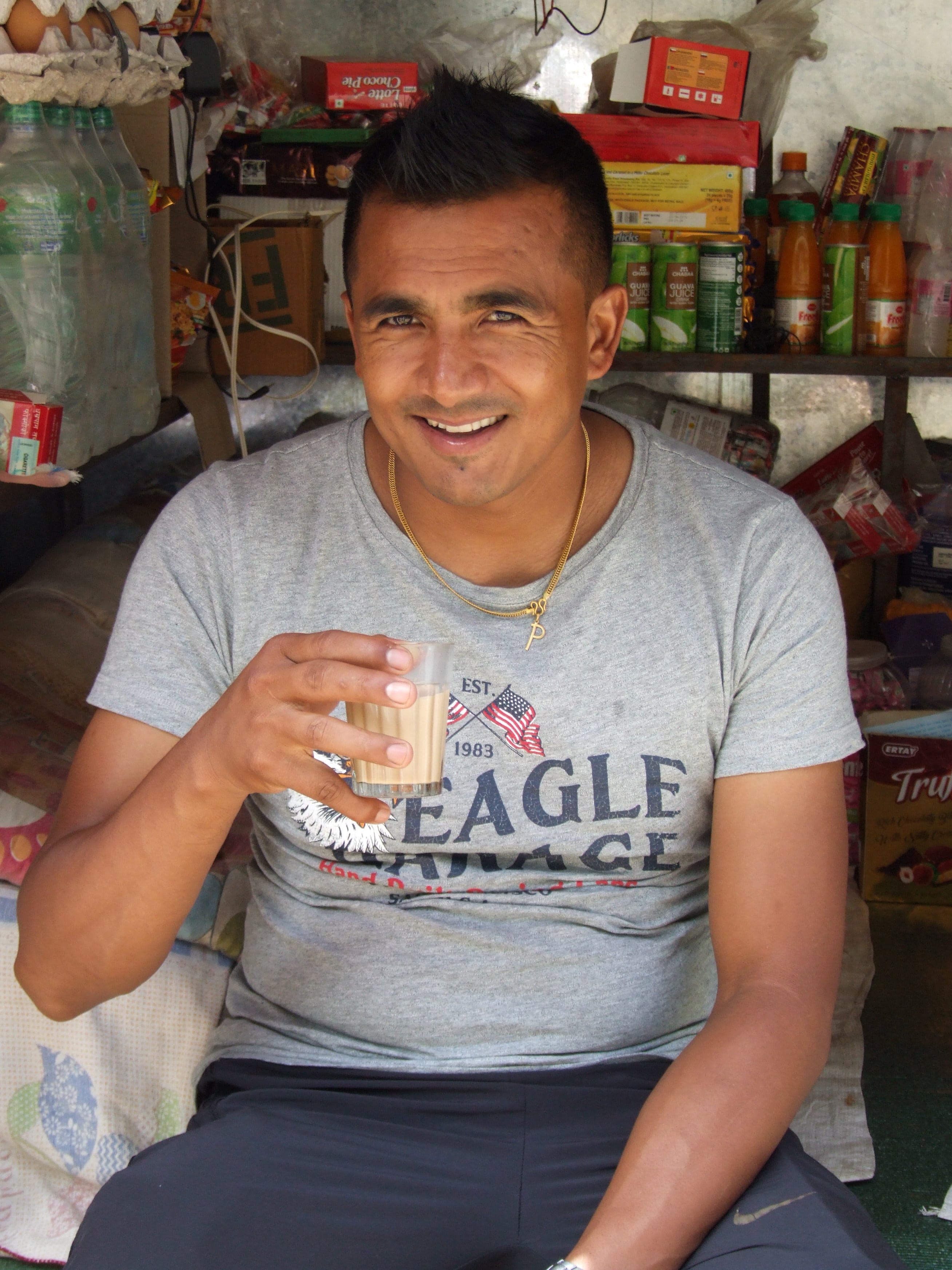 Day 6 - Giving and Gratitude
There are some people in this world who are born to give. Let me share the stories of two inspirational people we are spending every day with here in Kathmandu.
Our number one Nepali man of the moment is Padam. He is 34 years old and is one of the most caring and compassionate men ever born. I call him Vishnu after the main Hindu god, meaning the protector. He is everywhere and anywhere, looking after us. He is checking on us as we slide our way through the muddied streets of Thamel that are under construction. He guides us through the chaotic mayhem of trucks, buses and over-zealous motorbikes when we cross the roads. Together we dodge the motor bikes, battered Suzuki Swift taxis, pedal rickshaws and bicycles. He tells us every day that he is here for us 24/7. He shakes our hands and hugs us goodnight every day! He is our protector.
And he is lovable. He is always smiling and talking very fast! His use of past and present tense when talking about "our" becomes "your" so we often get confused easily. But there is much teasing and joking in our day. Even when we are walking the streets we are talking. Daily we just kept on learning more; on any topic we need to know about, including the earthquake, the education system, the status of disease, women's health, cultural taboos for women, sex trafficking, Hinduism and more. But whilst we are walking and talking, he is greeting everyone in the streets of Kathmandu with a grin and a handshake. We have usually had to stop 8-10 times in the first ten minutes of leaving the hotel as he is everybody's friend. He loves people and people love him!
Padam has two passions in life; volleyball and the Seven Women organisation. He has been part of Seven Women since its inception. Padam is the Superman behind the growth and development of the inspiring vision this centre has for empowering marginalised women with training and education. He can lend his hand to anything and is always willing to do whatever is required, right on time. He can negotiate hard and fair and will always stand up for women's rights. He has studied a Bachelor of Sociology at university and is also a master Mo-Mo maker (Nepali dumpling!) in his brother's restaurant. When given a chance to talk, he speaks with enormous admiration for Steph Woollard, the founder. He and his co-worker Anita are dynamic duo: a powerhouse of energy, compassion and teamwork. His eyes are intense with feeling as he expresses his gratitude for the opportunity he's had in developing and working with this organisation to make a difference. He has been a national volleyball player since a young age. He plays two hours every day. He voluntarily organises the National Volleyball Festival every year and fundraises everything for it himself. He liaises with the government to make this national sporting event actually happen. This is what makes him a celebrity in his own town!​
He is here to make his mark on the world. And he will move heaven and earth in the name of justice, and compassion. As an example, yesterday we were taken to a viewing site of the Himalayas a couple of hours from Kathmandu. And whilst he tried, he couldn't shift the clouds to give us our view of the snow-capped mountains we long to see again! But he tried. We have seen those wondrous mountains before so we accepted now was not our time.
What is striking about Padam is he constantly tells us how lucky he is and how happy he is!
He talks about the earthquake and describing his personal experience of being on his motorbike and trying to keep it upright, watching the buildings falling into the road toward him. He claimed he said, "oh my god, I am alive", when the first shaking stopped. What followed was frequent after-shocks for another fortnight before the second earthquake struck them again. And the aftershocks were still happening months afterwards. There must have been so much fear in living with that. Yet he keeps saying how lucky they all are. The luck was in the fact that the earthquake happened on a Saturday which is their weekly holiday. If it had been a working day, thousands more would have died, including children in schools and traders in their stores. Even if it had happened at night, more people would have been in their houses asleep and unable to escape the collapsing buildings. And still he continues to claim how lucky they were. Luck? But this is his natural way of finding gratitude for everything. He is grateful that more lives weren't lost and he is grateful he is alive. He is grateful he has a daily opportunity to help others and make difference. He lives this quote.
"Practice sharing the fullness of your being, your best self, your enthusiasm, your vitality, your spirit, your trust, your openness, above all, your presence. Share it with yourself, with your family, with the world."​
Mandy