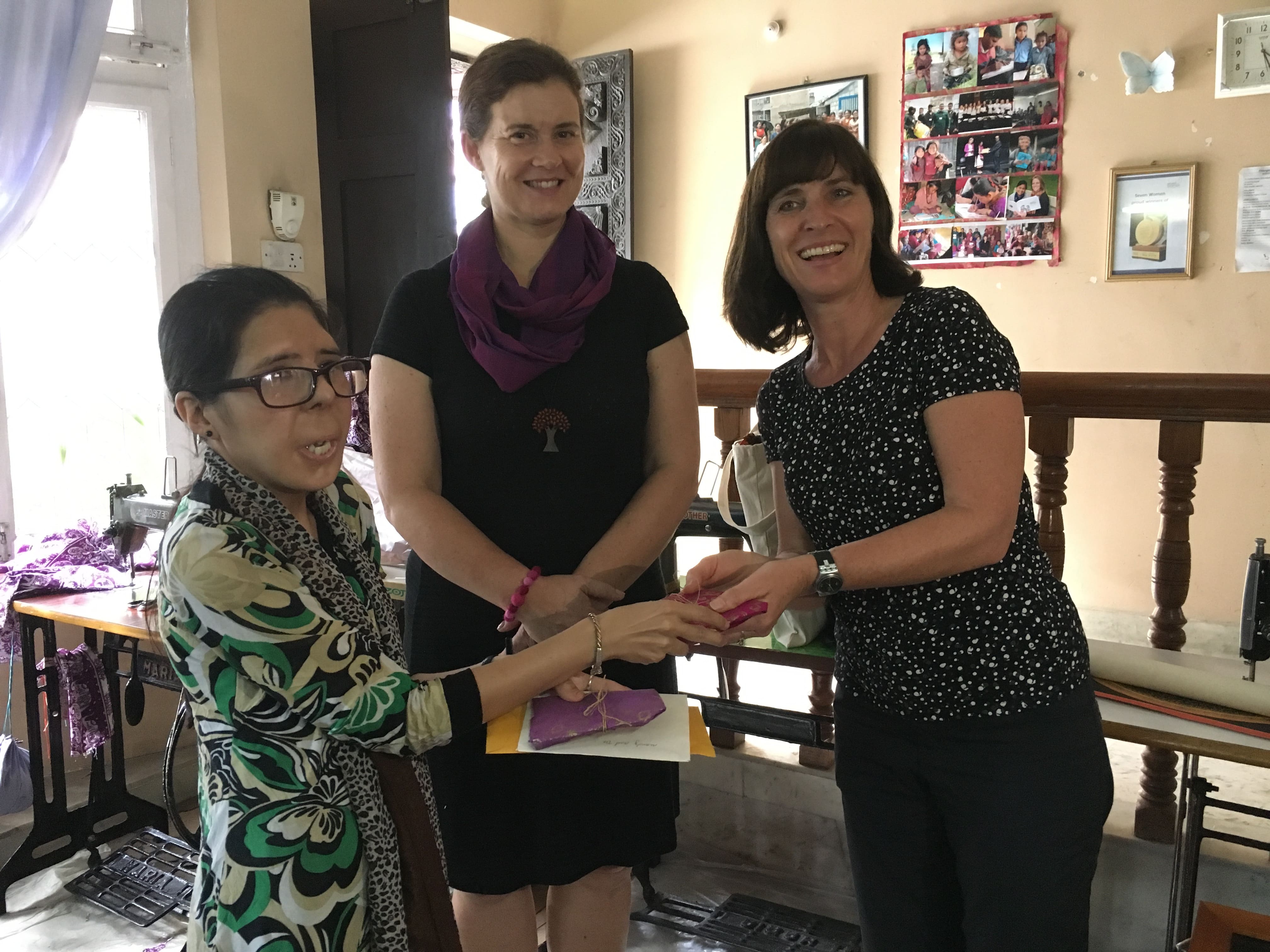 Day 12 - Moments of Appreciation
Moments of appreciation- so little can make such a big difference
We are passionate about making a difference to the health and education of as many lives as we can across the globe, by sharing this concept of compassion and loving kindness for all human beings. With the cycle of giving and receiving now well and truly underway, we can reflect on how this has come about. At the end of 12 days in Kathmandu we have felt compassion, received kindness and watched loving kindness unfold in the goodness of human nature.
As a women's health physiotherapist I, Mandy Hogan, have found a purpose and passion for educating people in the principles of mindfulness to ensure we maintain some balance in life to preserve our mental and physical health. This aligns with my dearest friend, Liz Phillips, whose teaching and management background has fuelled her passion and dedication to teaching self-identity and a sense of belonging to children. Bringing together our insight and professional interests has created a wonderful experience in Kathmandu, with hopefully many more in the years to come. The connection of the human spirit here was a powerful experience for the both of us.​
If we step back a few months to the moment we sparked this idea with old school-friends on a 50th birthday celebration, we should recognise the enthusiastic encouragement we've had from friends and strangers. When we got brave enough to share our dreams, people actually stopped to listen. We have seen eyes light up, and heads nod in acknowledgment, with strong peer support. So some words of thanks and appreciation to all those who validated our simple idea. We may not have been so convinced we could to step out of our comfort zone and make it happen without you!​
Back in the early planning days (which was actually only in March this year) we wanted a concept that would spread a message of understanding compassion for self and others, with recognition that we are all special with unique talents. We wanted to encourage acts of kindness, and a sense of gratitude that comes with a life that is built around satisfaction versus dissatisfaction.
So we started with the development of the Mandala of the Compassion, compliments of Wangaratta graphic designer, Emily Burke. She willingly helped us with finding the peace mandala to use and designed the colouring page with the handprint. Beautiful work, thanks Emily, especially given you didn't even know us! Then we went on to fundraise with her Mandala colouring books, so we pay forward these books to Nepalese women who have never coloured with pencils before. There is the collections of friends who bought books, the Women's Weekend group who sat quietly together colouring and the Revitalise Life meditation class, to bless for their assistance.​
In Kathmandu we encountered some inspiring women who were educated and purposeful in making a difference in their own organisations. There was Sukanya, the 81 year old retired school principal at Amrit Secondary school, who still taught at the school full-time because she didn't want to stop working. She was hilarious and was keen for a physiotherapy treatment for her arthritic knees and painful shoulder. She was duly prescribed exercises and given the ultimatum that exercise only works when you do it…..
Well, two days later we returned to the school to donate sporting equipment, colouring pencils and the parachute. She rushed in to tell me I was a miracle worker throwing her arms high in the air in an over-zealous sun salute! Now, that was satisfying!
Then there was Nicole, the Swiss-Australian woman who had opened her Nag School for children of marginalised women over 23 years ago. The school provides education for over 350 students, with 200 students requiring residential care due to a lack of family support. Her original students are now her well-educated support team. She runs also medical clinics in outreach areas, and supports students in their striving for tertiary studies. The day we met her she was pulling her hair out with frustration at her lack of financial resources to make dreams happen. She had five girls preparing for final exams, and if they all pass she will need to come up with AUD$5000 per girl, to help send them to university. This seemed an impossible task, yet she fervently wants them to become nurses to help improve the poorly resourced and inadequate standards of medical care in Nepal. She finances the school only with donations, mostly Swiss. We hope to be able to help them with items for their medical clinics in the near future.​
Wisdom: Knowledge + Experience = Insight.​
We were lucky enough to be guided the by Hands-On Development social impact tour that was designed by the social entrepreneur Steph Woollard, founder of Seven Women. She recently won the prestigious UN Rotary International Responsible Business Award. Thanks to Steph for allowing the tour to be tailored to just the two of us. Our time spent with Anita was particularly special with three women sharing wisdom in health, education, and how to make impossible dreams come true. She connected us with many wonderful organisations, places and people. We love Anita, and her remarkable teamwork with Padam, our hero and guide. Bizay was our guide in history and culture at religious, political and historical sites. We are much more aware of the social issues, thanks to his wonderful knowledge. The 'family' of Seven Women and our interactions was poignant and filled with pleasure. My disabled craft teacher was so patient with my substandard stitching! She sat so close with her hand on my leg for encouragement the whole time.​
So in return, we hope we may have connected Seven Women with the future potential of working more closely with liaisons like ACP and World Vision on a broader scale. How exciting if they could spread their wings with the bigger, long-established NGO's and INGO's! We met the CEO women leaders and Program Managers of those organisations (Liz, Revita, Aru and Rachel) and realised they are all women in mind, women in kind. That is, hard-working women dedicating all their energy to the bigger picture. The concept of being an over-stretched woman trying to be many things to many people, in work and family roles, was certainly acknowledged by these purposeful, energetic women. They all noted their own need to consciously create a little more breathing space for themselves, more regularly, in order to be able manage the stress and demands of their management roles.​
Across the globe, people may be battling the hardship of the physical conditions they live in or suffering the hardship of the mental conditions they live with. Practise compassion with the intention to change the world for others around you, and importantly with this you will to change your own world.
The most wonderful outcome would be for Connect with Compassion to stimulate an ongoing global cycle of giving and receiving which thereby improves the mental and physical well-being of people from east to west. The sharing of the white scarf will be underpinned by education of how mindful awareness and compassion can nourish self and serve others.
​So, where to from here?
Start a Self -Compassion practice - Have "One White Day a Week". Our hope is that we can create opportunities to educate and encourage tired, stressed, anxious, and overwhelmed women to wear the white scarf as a symbol of her own self-nurture on a weekly basis. With some time to breathe in our busy lives, we can then share our gifts to fully interconnect with others more meaningfully.
Attend a Mindfulness event to embrace the concept of the White scarf of Compassion.Events- come and watch the Seven Women story at a double documentary film screening for Connect with Compassion on Wednesday 6th September, Wangaratta. The launch of the white scarf will occur on this night. Book your tickets at www.wangarattapac.com.au
Contact Mandy by email to arrange a mindfulness event or course: amanda@hoganhealth.com
More information will be available on our website very soon.
Mandy + Liz